GBC Paper Shredders In Chennai
GBC Paper Shredders In Chennai GBC office products worlds leader in innovationWe are in an age where privacy is crucial…Your privacy is at risk whenever documents are thrown in the trash. The only way to keep information secure is to shred documents before they leave your control. Remember, shredding is standard office procedure and GBC shredders have been the industry's quality standard for over 40 years!Shredders provide security, privacy and confidentiality…
There are many reasons to shred… to protect your company's financial information, to safeguard private information, that you are mandated to protect and to keep personal information confidential. Whatever the reason, you can depend on GBC Shredder. . With over 40 years designing and producing top quality shredders, GBC Shredder leads the way in providing document security solutions for every office and personal need.
GBC Paper Shredders In Chennai
The advantages of the Shredder…

1. On-site services of most production and office models
2. One of the strongest warranties in the business
3. Performance and quality
4. Wide choice of application-specific models
5. Micro-cut and CD/DVD shredding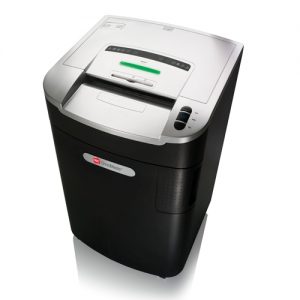 GBC Paper Shredder In Chennai
General Binding Corporation (GBC) is the manufacturer of some of today's first-rate paper shredders, from the personal-sized to larger machines that are great for large organizations. One of their smaller machines is the ShredMaster GEX106, a machine that's great for occasional use at home or at work. Although it's small, it still has the same great qualities that distinguish GBC machines from the competition. Still, like all machines it does have a few minor weaknesses. Here's a rundown of the GEX106's strengths and weaknesses.
GBC Paper Shredders In Chennai
Strengths: This shredder has a throat that measures 9 inches across and it can handle a variety of media, including letter- and legal-sized paper and credit/debit cards. The GEX106 will also destroy any paper clips or staples left in your documents. It can shred up to 10 sheets at a time and is capable of shredding up to 6.5 feet of paper in a minute. The GEX106 of a cross-cut device that will produce shreds measuring 1/6″ x 1-3/4″.
GBC Paper Shredders In Chennai
This gives the machine a Level 3 security rating. This unit is equipped with GBC's Jam-Free technology to prevent the occurrence of annoying – and potentially damaging – paper jams. When the machine detects that too much paper has been inserted, the device's feed opening will turn red so you can remove the extra sheets and prevent a jam from happening. The GEX106 is approximately 26 inches tall so depending on the size of your office furniture, it would be possible to stick this machine under a desk or table to keep it tucked away.
However, it would be difficult to use this machine if you store it in this way. (See the "Weaknesses" section below.) All of the controls are easily marked to ensure simple operation. The machine also runs quietly so it won't disturb people who aren't using the shredder. This device costs under 0.00 so it is affordable for the majority of businesses that need a reliable shredder. GBC offers a two-year warranty on parts and labor, and a truly incredible 20-year warranty on the cutting head.